Yoga at the Farm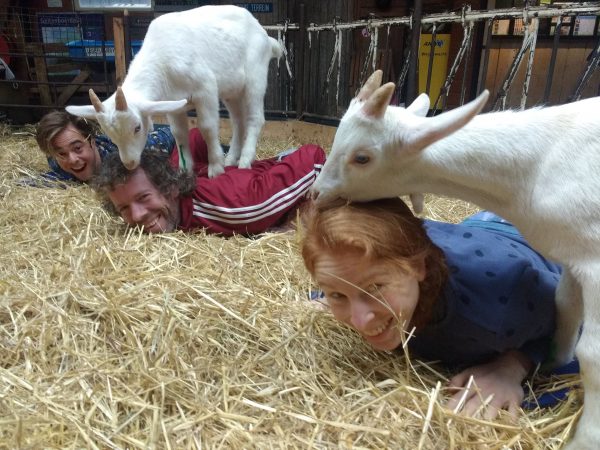 Nothing is more relaxing and beneficial for body and mind than yoga except maybe yoga on the Goatfarm in the middle of the Amsterdamse Bos, surrounded by nature. Just by entering the quiet woodland in the early morning, you already improved your state of mind. When you arrive at the Goatfarm Ridammerhoeve and the animals greet you, it's clear that you've achieved all that you need to achieve today. This is a mini retreat just outside of the city!
Goat Yoga on Saturday and Sunday mornings
Every Saturday and Sunday we complete a yoga practice in the company of goats right in the middle of the their barn. Just being around these sociable animals causes, the body to produce the cuddle hormone oxytocin, relaxing the body and mind and therefore assisting you in your postures.
Besides, the curious, bold little goats can't fail to make you laugh, so this is a fun and playful class which will certainl help you learn how to let go of control….:)
€ 25,95 goat yoga class including coffee with goatmilk and homemade nut cake
€ 30,– including a specially selected organic breakfast with fresh products from the farm
Groups
It is also possible to come and experience the goat yoga class with a group (min. 10 people).
Afterwards we will serve you a breakfast or lunch with fresh products from the farm.
For more info please contact hoi@yogalesje.nl
Yoga classes are taught by Brenda Bood of Yogalesje.nl.